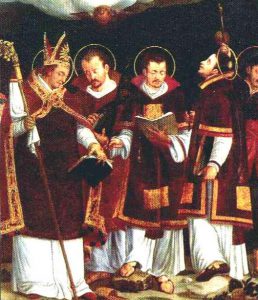 Vigilio, vescovo e martire, terzo nella serie dei vescovi di Trento, morì il 26 giugno del 405 d.C. a Spiazzo in Val Rendena. Narra la leggenda che, durante uno dei suoi viaggi per diffondere il cristianesimo nelle Valli Giudicarie, Vigilio mentre predicava in riva al torrente Sarca contro i riti estivi a Saturno delle popolazioni locali, venne contestato con il lancio di zoccoli (o di pani duri). Colpito, precipitò nel fiume e venne trascinato via dalla corrente. L'architettura fa ancora memoria del martirio con la Pieve di Spiazzo a lui dedicata, costruita proprio su un masso in riva al fiume. Un'altra suggestiva testimonianza è la chiesetta in riva al Sarca a Tione, che ricorda il luogo dove secondo la tradizione il corpo di Vigilio fu depositato dalla corrente.
Vigilio, di origini romane, era un uomo di profonda cultura. Nominato vescovo in giovane età, iniziò un'assidua opera di evangelizzazione nelle valli trentine. Per essere aiutato nell'evangelizzazione chiamò dalla Cappadocia i tre giovani Martirio, Sisinio e Alessandro che si stabilirono a San Zeno in Anaunia. Proprio in questa valle, i tre giovani trovarono il martirio .
L'itinerario seguito da Vigilio e dai cristiani trentini che ne riportarono il corpo in città con il corteo funebre, corrisponde al vecchio passaggio del Bus de Vela, raggiunto da Tione attraverso Ragoli, Stenico, Banale, Ranzo e il Vezzanese. Molto cappelle sono presenti sul percorso: San Vigilio di Spiazzo, San Vigilio al Vat di Tione, San Vigilio di Stenico (San Vigilio di Curé, San Vigilio di Molveno), la cappella di Ranzo, San Vigilio di Vezzano fino alla cattedrale di Trento.
Vigilio, bishop and martyr, died on 26 June 405 AD in Spiazzo in Val Rendena. According to tradition, during one of his missions to Giudicarie Valley aiming to convert the local population to Christianity, Vigilio was contested by the locals who threw hooves or hard loaves to him while preaching against the summer rituals of Saturn on the banks of the River Sarca.  Hit, he fell into the stream and was dragged away by the current. The local architecture still remembers his martyrdom with two evocative sites: the Pieve di Spiazzo to him dedicated, and built on a boulder by the river, and the suggestive small church on the River Sarca banks in Tione which recalls the place where, according to the legend, Vigilio's body was left by the current.
Vigilio, of Roman origins, was a man of profound culture. Appointed bishop at a young age, he began a hard evangelisation work in the Trentino valleys. In his missions, he was helped by three young natives from Cappadocia, Sisinnius, Martyrius and Alexander, who settled in SanZeno in Anaunia, where they were martyred.
The itinerary first followed by Vigilio and then by the Christians who walked down the martyr's body back to Trento with a funeral procession, is the old passage going from Bus de Vela to Tione through the villages of Ragoli, Stenico, Banale, Ranzo and the area around Vezzano. Many chapels are on the route: from San Vigilio in Spiazzo to San Vigilio in Tione, from San Vigilio in Stenico (San Vigilio in Curè, San Vigilio in Molveno) to the chapel in Ranzo, from  San Vigilio in Vezzano to Trento Cathedral.